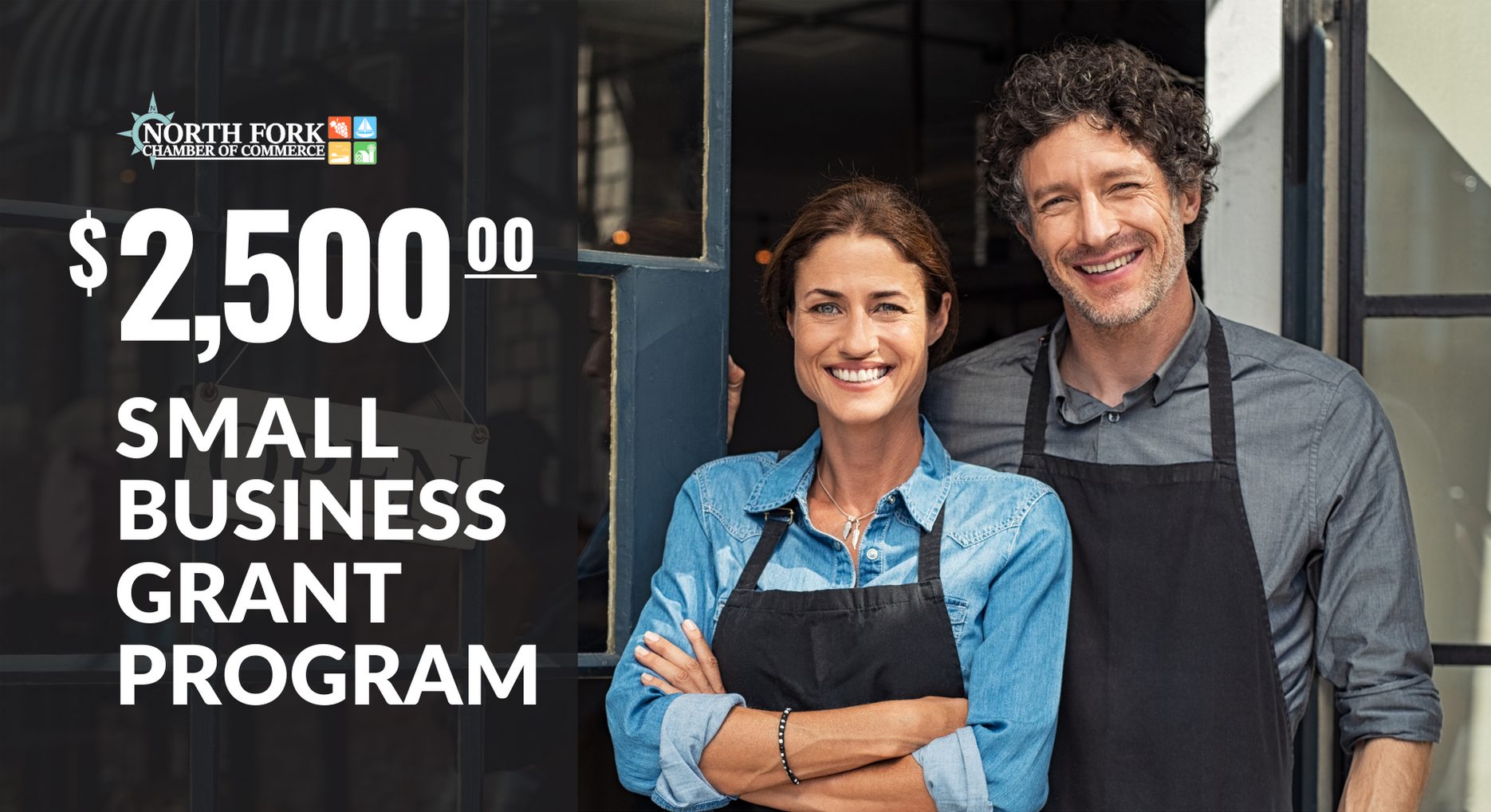 Small Business Grant Information, Criteria, and Application page
Sponsored by the North Fork Chamber of Commerce
The North Fork Chamber of Commerce is pleased to offer one Small Business Grant of $2,500 to a qualifying applicant doing business on the North Fork of Long Island. 
Each Small Business Grant can be used for normal operating expenses such as marketing, advertising, office supplies and equipment or any other item which will reduce business expenses or provide additional revenue for the business. 
 Application must be received by March 18, 2023
Winner will be announced at our monthly meeting in April and via email shortly afterward.
Application requirements:
The applicant must be an ACTIVE Member in good standing of the North Fork Chamber of Commerce.

Business is legally permitted to do business, and is registered/organized, in the State of New York and county of Suffolk

Business operates as a "for profit" entity.

Your business has not been the recipient of this award/grant in the last thirty-six (36) months

Your business operates in the official geographical "North Fork" region. The geographical region is bounded to the west by Route 105; bounded to the north by the Long Island Sound; to the south by the Peconic Bay, Southold Bay, Peconic River, etc... And to the east by Gardiners Bay, Long Island Sound, Atlantic Ocean etc.
2023 Small Business Grant Submission Instructions and Form (and link to PDF version)
Please complete the short application form below or, alternatively, you can download the application in PDF format. If you choose the latter option, you'll receive two versions--one you can print out and fill in by hand and another interactive version where you can type directly into the form itself. You can then email it to us at info@northforkchamber.org or even drop it in the mail--whatever is easiest or you.
Download the PDF versions here
Note: Whichever way you choose to submit your application, you will receive an email confirmation within 24 hours of us receiving it to notify you that we have your application. If you don't hear from us, or if you're having problems with this application, please call or email Andrea at 631-765-3161 or email info@northforkchamber.org.
Confidentiality notice: Information in the application, and the fact that you applied at all, will remain confidential and only be shared with those reviewing the application. The winner will be announced, but not their applicaiton details.